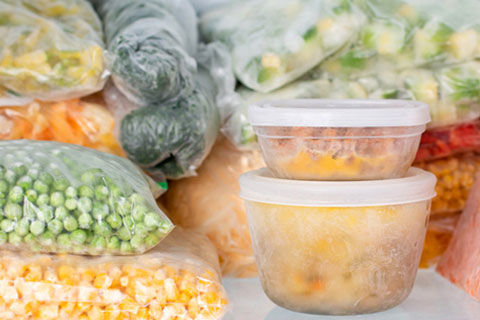 In the frozen food exporters India list, Williamson Overseas Trading Corporation is known as a major supplier of Frozen seafood foods like black tiger prawns, scampi, vannamei, karikadi marine shrimps, pooovalan, pullan, deep sea red shrimps, brown shrimps, deep sea lobster, squid, octopus, cuttlefish, various fishes like yellow fin tuna, pomfret, ribbon fish, reef cod, seafood mix from various parts of India; chicken, mutton, chicken feet or chicken paws from India, Europe and Asia and frozen curries, frozen vegetables, ready to cook french fries and potato wedges, Quick snacks and Indian breads etc.
MARINE PRODUCTS Welcome to the website page of leading seafood exporter Williamson Overseas Trading Corporation from India. WOTC is a distinguished name among frozen seafood exporters in Kerala and holds a prominent position as one of the leading frozen seafood companies in India. With a specialization in frozen seafood and frozen marine products for over the past four decades, WOTC has also emerged as a reputable general trading company. Our clientele includes reputed wholesale seafood importers, reputed seafood exporters, food processing companies, frozen fish importers and exporting companies, hotel networks and frozen seafood distributors across the globe. With years of dedicated service, WOTC has garnered the trust of clients from across the globe like Europe, Vietnam, China, Australia, United Kingdom (UK), United States of America (USA), and Canada. Our offerings encompass a wide variety of sea fish, freshwater fish, shrimps, cuttlefish, squid, and octopus, catering to the discerning needs of food importing companies. Notable products in our range include Red snapper, Baby octopus, Deep sea red shrimps, Karikadi marine shrimps, Poovalan, Yellow fin Tuna, Ribbon fish, among others.

Rest assured, WOTC sources seafood from frozen seafood suppliers in India who hold certifications such as HACCP, US FDA, BRC, ISO, and GMP. If you are in search of Certified Frozen Seafood Supply from reliable frozen food exporters in India, feel free to get in touch with WOTC.

Conveniently order frozen seafood in bulk quantities through our website. You shall get supply via online orders. Our product range includes a diverse selection of seafood products, such as Vannamei shrimp, Black tiger shrimp, Karikadi, Poovalan, Jumbo prawns or scampi, ribbon fish, Yellow fin Tuna, Skipjack tuna, Loligo Squid, Baby octopus, Deep sea red shrimps, Cuttle fish, Blue swimming crab, red snapper, and more.

As an esteemed Indian international trading company, we take immense pride in presenting an extensive assortment of frozen marine products directly sourced from India's thriving aquatic resources. With a coastline spanning over 7,500 kilometres, India boasts a rich diversity of seafood that is highly regarded in global markets.

Our range of frozen marine products encompasses a wide variety of fish, prawns, crabs, lobsters, and squid. We ensure the highest quality by sourcing these products from the most reputable fishing communities and processing units in India.

At our company, sustainable and ethical sourcing practices take precedence. Our close collaboration with suppliers guarantees traceable and responsibly harvested products. We understand the delicate balance between resource harvesting and environmental conservation and take our role seriously.

To ensure optimal freshness and quality during transportation, our frozen marine products undergo processing and packaging that adhere to international standards. Utilizing the latest technology and equipment, we freeze and store our products, preserving their taste and texture.

Our packaging options cater to the diverse needs of our customers, including bulk packaging for wholesalers and retailers, as well as consumer packaging for supermarkets and grocery stores.

Our frozen marine products grace markets worldwide, including the United States, Europe, and Asia. We take pride in delivering top-notch products punctually and collaboratively work with customers to meet their specific requirements.

In summary, as a respected Indian international trading company, we offer a comprehensive range of frozen marine products sourced directly from India's thriving aquatic resources. Our commitment to sustainable practices and quality is fortified by cutting-edge technology and equipment. Reach out to us today to explore our frozen marine products and how we can meet your distinct needs.

Products : -Black tiger prawns,Vannamei Shrimps,Scampi or Fresh water prawns,Squid,Cuttlefish,Octopus,Canned Fish,Premium Cut French fries,Green Peas,Golden Sweet Corn Kernels,Mixed Vegetables,Curries.,Indian Breads like Chapatis, Parathas,Quick Snacks like Idli ,Vada, Idiyappam, Appam, Dosa, Samosa